Oil Change near Bridgewater MA

---
Has your car's oil light triggered on your dash? That means it's time for service near Bridgewater, MA!
In the following piece, our team here at 24 Ford of Easton will dive into the oil change process, the role your oil plays, and why it is so important to provide your ride with this service. That way, when you're searching for an "oil change near me," you'll know exactly how to proceed.
As always, if you have questions along the way, don't hesitate to reach out to our team.
---
What Does Car Oil Do?
Whether you've been driving one month or one decade, you're aware of motor oil, of course. Though, you may not be exactly sure of what it does and why it's so important for your Ford. So, that's where we'll start.
As its name suggests, motor oil is situated within your powertrain. When it enters your vehicle, it goes to work with your engine. Here, it will travel throughout the engine, cleaning it of debris and foreign objects. As it works to keep your engine clean, it will also serve as a lubricant, allowing everything to run together smoothly and as intended.
Do I Need an Oil Change?
As you continue to drive, like any car component, your oil will experience wear and tear. As it does, it will become dirty and old. When it reaches this point, it will no longer be able to clean and lubricate the engine, inhibiting the performance of your vehicle.
Usually when your oil reaches this point, it will show some symptoms. Of course, if your model has an oil light, this is a surefire sign your oil needs to be changed. There are some other things you can look out for, too…
Excess/visible vehicle exhaust
Persistent check engine light
Shaking sensation while vehicle idles
You can expect to encounter these symptoms every 5,000 to 7,000 miles you drive, as this is how often your oil will need to be changed.
Completing Your Oil Change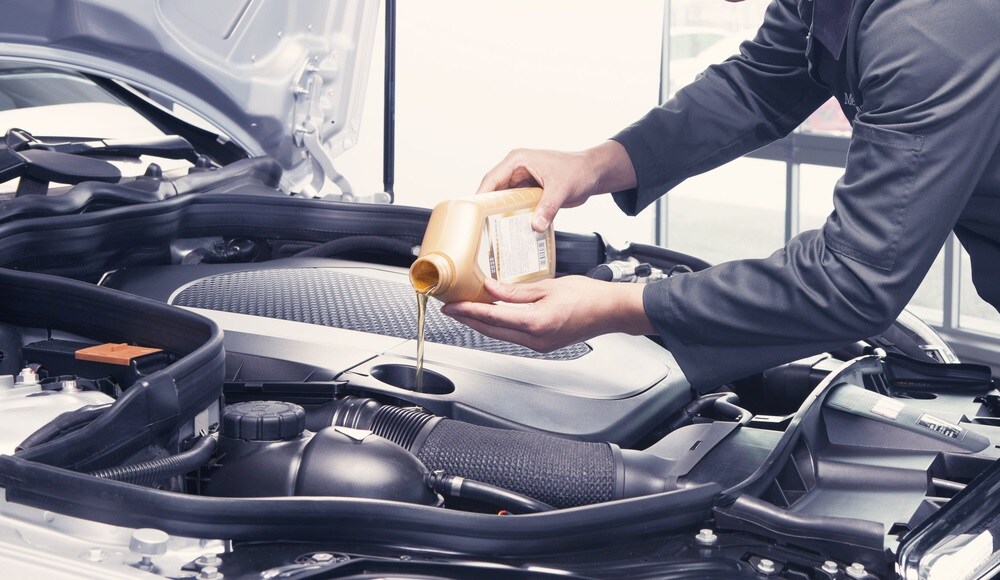 Oil changes, while important, are quite simple when compared to other services. Whether you elect to complete your own oil change, or you want to schedule a service appointment here at our dealership, the same steps will be followed.
1. Identify what type of oil the vehicle takes.
2. Remove drain plugs so that old oil can drain out of the vehicle.
3. Remove oil filter.
4. Insert drain plugs back in and add a new oil filter.
5. Insert new oil.
6. Check levels to make sure there are no leaks or other issues.
Just like that, your oil will be changed, and you will be ready to resume roaming those local roadways.
---
Learn More About Changing Your Car's Oil Today
Here at 24 Ford of Easton, we've built out a state-of-the-art service center with an expert team of trained technicians. So, whether you're looking to schedule an appointment, or just need advice, we'll be happy to help, and also positioned well to do so.
So, if you've found yourself searching the web for an "oil change near me," around Bridgewater, Massachusetts, you'll know where to turn.
---